LOINC Conference is a unique educational experience
Join LOINCers from around the globe at this special event featuring hands-on workshops and the public Laboratory LOINC Committee Meeting.
Register Now Registration is now closed
Hands-on learning
The push for laboratory data interoperability is coming from many directions, and LOINC plays an essential role. At this workshop you'll learn what's necessary to implement LOINC into your systems.
Our expanded workshop includes keynotes and new sessions led by LOINC team experts. Choose sessions that match your interests and experience at this in-person event. Your workshop fee gives you complete access to all the sessions.
Experts to guide you
Every workshop session is led by LOINC's team of experts and community leaders. You'll be face-to-face with the people who build and use the standard on a daily basis. They're eager to help you learn how to use LOINC.
We've organized the sessions with plenty of time for questions. You'll be able to get your specific topic addressed.
NEW
More presentations from LOINC implementers
John Snyder, NDTR, RDN
Diameter Health, Inc.
Pamela Banning, MLS(ASCP)cm, PMP®
3M Health Information Systems
Joel Buchanan, MD
UW Health at the University of Wisconsin
Dana Milne, PhD
Eva Lepisto, MSC, MS
Dana-Farber Cancer Institute
Also Included
Your $250 workshop fee provides tremendous value. You get admission to your choice of sessions—and access to recordings and materials after the event. LOINC Premium Members and Sponsors even get a 10% discount on the cost.

Choice of Workshop Sessions

Access to recordings and slides after event

In-person access to LOINC experts

Networking with other LOINC users

Best practices for implementing LOINC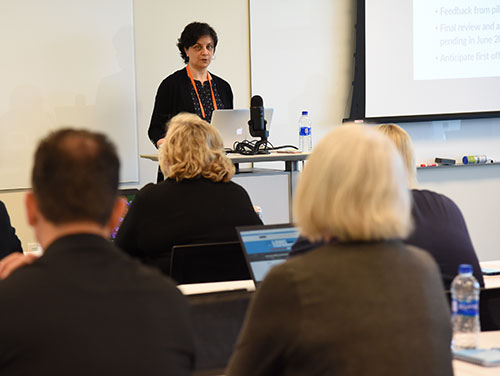 WEDNESDAY, DECEMBER 5
Workshops and Presentations
We're excited to offer a range of hands-on training sessions, with each one led by top LOINCers. Review the entire schedule and find the options that best fits your needs. During registration, you will select the sessions you plan to attend.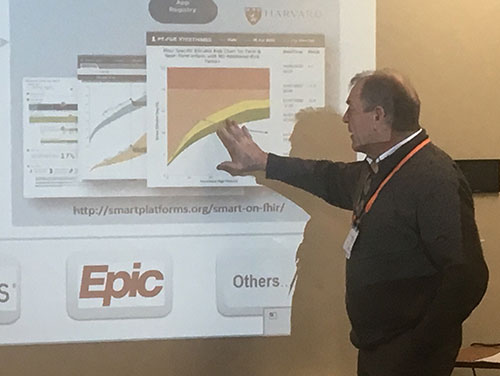 WEDNESDAY EVENING, DECEMBER 5
LOINC Show & Tell Reception
LOINC exists because of its many community contributions. Let's celebrate the numerous uses and achievements of LOINC in this unique showcase and cocktail reception. Learn how you can be a part!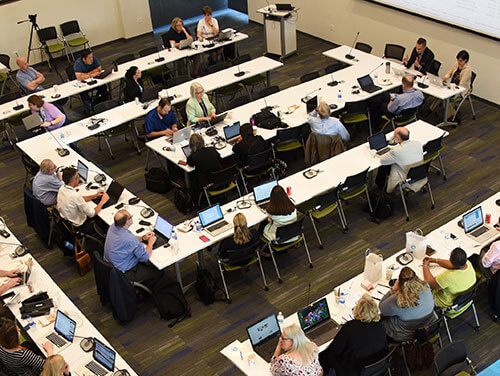 THURSDAY, DECEMBER 6
Laboratory Committee Meeting
The Laboratory LOINC Committee convenes on the second day of the conference to hear updates on LOINC adoption and discuss key issues for development and implementation. All are welcome! You may attend as part of the conference or separately at no cost.
Accommodations
We suggest reserving a room in one of the hotels in downtown Indianapolis. Here is a list of hotels near Riley Hospital for Children, next door to Regenstrief.
Lunch and continental breakfast will be provided both days.
Cocktails and snacks provided at Wednesday's reception—open to all conference attendees.
Travel
Regenstrief Institute is at 1101 W. 10th St., Indianapolis, IN 46202. View map. We are on the IUPUI campus, nearby to Riley, Eskenazi, and VA Hospitals.
You may park in the Wilson Street Garage located on the east side of Regenstrief Institute. We will gladly validate your parking here during the conference. Please contact us if you are in need of handicap parking space.
What to bring with you
This is a hands-on workshop. All participants should bring a laptop computer to get the most from the exercises and available help.
RELMA session attendees will need to download and install RELMA before the event. RELMA only runs on Windows computers. Mac users can run Windows in a virtual environment; see our detailed instructions.
You should also bring a delimited-text (e.g. a tab delimited or CSV file) or Excel version of your local terms (e.g., your test list). This file must contain the test code and test description. For quantitative measures, be sure to include the units of measure. See Dr. Vreeman's instructions for preparing your source file for mapping.
Webinar Access
This workshop format is limited to in-person attendees only.
As usual, you may choose to attend the LOINC Committee Meeting remotely. Webinar access will be provided after registration.
We utilize GoToWebinar for live streaming of the committee meeting. If you have not previously used GoToWebinar, you may need to download and install the free software. It is available for most computers and mobile devices.