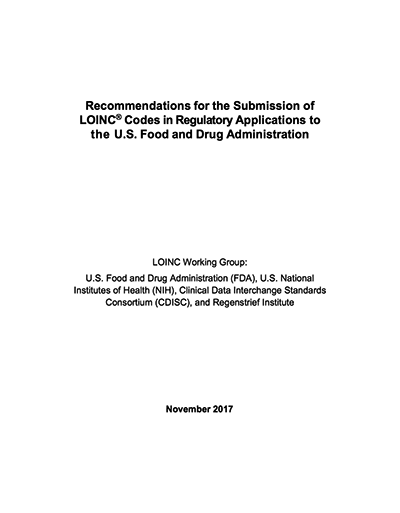 Recommendations for the Submission of LOINC® Codes in Regulatory Applications to the U.S. Food and Drug Administration [PDF]
In 2017, the United States Food and Drug Administration (FDA) formed a LOINC® Working Group to make recommendations regarding the mandate to submit LOINC codes to regulators. This Working Group was a collaborative effort among the FDA, National Cancer Institute, National Library of Medicine, Regenstrief Institute, and CDISC. The FDA has now made available a final version of the Working Group's recommendations. The Working Group recommendations are intended for consideration by FDA as they contemplate future LOINC requirements.
As described in the recommendations document, CDISC-compliant submissions currently support the inclusion and submission of LOINC codes as part of the laboratory (LB) domain. LOINC users are encouraged to review the recommendations from the Working Group and continue following FDA guidance that is published as updates to the Study Data Technical Conformance Guide (TCG).
The effective date for the LOINC mandate is March 2020.